Traffic Disruptions Don't Have to Mean Work Disruptions
Making Office to the Cloud Seamless
With the right telework plan in place, you don't have to be "stuck in traffic." Learn more about how to put a business continuity plan in place that enables your employees to work outside the office with ease.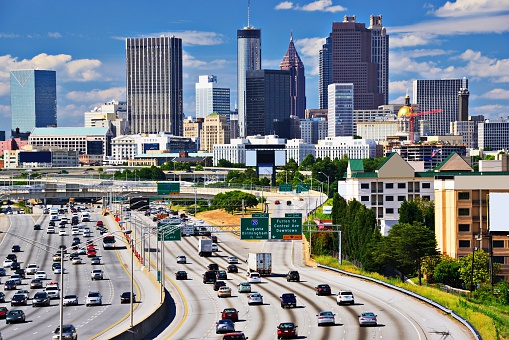 Atlanta is currently experiencing significant infrastructure problems. Or as CNN puts it, the city is literally running out of interstates.
In March, a five-lane segment of I-85 collapsed during rush hour which made the interstate completely unusable. The immense damage was believed to be the work of an arsonist and it took firefighters and recovery crews a considerable amount of time to put the fires out and fix the damage. Repairs are expected to take several months as 350 feet of I-85 now needs to be completely replaced.
I-85 isn't the only damaged route Atlanta residents currently have to contend with, either. Recently, a huge portion of I-20 buckled and cracked as a result of an underground gas leak which caused the freeway to shut down.
With only two functional interstates for the time being and the city's lack of public transportation, Atlanta commuters are now facing major obstacles getting to work. Atlanta's business owners and managers who didn't already have telecommuting infrastructure in place are now also suffering major headaches as taking out-of-the-way detours rife with traffic jams is now the only way for thousands of people to get to work.
Subsequently, these delays have sparked conversations among business owners and IT professionals. In 2017, there's no reason that most types of businesses can't continue operations in the face of commuting issues like this. If your line of work doesn't entail meeting clients or customers face to face on a daily basis, your business should enjoy the benefits of telework.
Several benefits come with telework such as a wider talent pool from your workforce not needing to be geographically bound, doing your part for the environment, and the cost savings on office space. But if your workplace relies on your employees being on-site, you should at least have a telework backup plan. You can ensure that operations will face as few interruptions as possible in case of an infrastructure collapse, Snowpocalypse, or other events out of your control.
Keeping Your Employees Connected Away From the Office
A natural disaster or massive highway collapse doesn't have to equal disaster for your business or putting yourself and your staff through unnecessary strain trying to get to the office. There are so many productivity tools that only require a device with an internet connection to stay connected to your business systems, and it's crucial to make an investment in these tools now.
Here's what you need to ask when making a telework and business continuity plan:
Where are my clients located? How do my employees and I communicate with them?
How many team members are working on projects? What kind of infrastructure is needed for project management that will work seamlessly on-site and remotely?
What type of tasks do my employees perform? How many of these tasks need to be done at the office, and what can be done at home?
Am I going to furnish devices to my employees or institute a bring your own device policy?
Do my employees handle confidential information? How will we keep it safe and comply with regulations?
Finding the Right Remote Work Tools For Your Business
There is so many tools today that can enable teams to work together remotely all over the world like Slack, G Suite, Microsoft Teams, Trello, and much more. For enterprises where larger projects, and more significant amounts of projects, are a concern there are also solutions that your IT professional can recommend for your business.
By making a plan before disaster strikes, operations don't have to be interrupted too heavily and the "deer in the headlights" effect can be avoided. The above tools are available in free and enterprise versions, but you can also have a remote work system customized to your business entailing the following:
Virtual desktops so the office computers can be accessed anywhere
Secure dial-in conference calling systems tailored to your operations (including mobile-first)
Electronic document management designed for your users' security, access, and file size needs
Enterprise-grade email solutions so the office fits in your employees' pockets
Remote security systems
Offsite billable hour tracking and timesheet submissions
Project management solutions
Communications channels
And much more!
On-site work offers many benefits such as collaborating in person on projects and having face time with important clients, all of which strengthens your relationships. But when those disasters beyond your control happen, or your star employees suddenly face difficulties coming to the office, there's no reason why your business should have its operations disrupted. Contact Centerpoint today so one our friendly and professional IT experts can custom design a telework solution for your business. A bridge may collapse, but your business doesn't have to!