Everything You Need to Know About Choosing the Right IT Services Provider for Your Business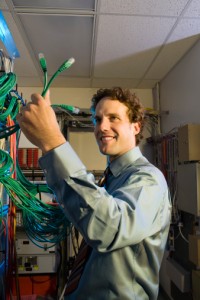 As a small- or medium-sized business owner, choosing an IT services provider is one of the biggest decisions you'll make. Your technology partner should be a close advisor on the IT services you need now and in the future based on a clear understanding of your industry and business.
So how do you choose from the hundreds of IT services companies on the market? Each one will claim to be the best, most comprehensive, and responsive team you can find. Some may try to awe you with technical jargon and industry speak. Others might try to win your business based on price. Having a clear understanding of your business needs and the types of services you want are the first step.
This article will walk you through questions to ask yourself and your team, as well as factors to consider about your prospective IT services providers to help you find the right fit for your brand.
Part 1. What to Ask Yourself and Your Team
Understanding your own needs and how you want to approach technology is the first step in choosing an IT services provider. Don't start by letting potential providers tell you what you need. When you come to the table with a sense of where you're at and where you want to go, you have a better opportunity to build a strong service relationship and ensure you get the right fit, not a great sales job.
1. Where is your company at now?
Before you even consider looking for an IT services provider, take stock of your current technology and business needs. We know … The saying is true: you don't know what you don't know. That said, it may feel daunting to outline your needs if you aren't technically minded or know what your industry peers are using. Don't worry, simply start with this checklist to kickoff a thorough needs assessment. As you answer these questions, you'll likely uncover needs you didn't even realize existed.
NEEDS ASSESSMENT CHECK LIST:
When was the last time you purchased IT equipment?
Is any equipment older than six years?
Take a poll from your staff on what's working and not working.
Create an inventory of what you're using (i.e., laptops, printers, fax machines, Internet, phones, eCommerce tools, etc.) and assign a percentage to each based on company use.
Does your business have any legal, compliance, or liability needs to protect your clients' data?
Have you seen any technology trends you'd like to explore?
Where do your team members work or connect with clients (in office, out of office, traveling, etc.)?
How secure is your system and what cyber security tools are you aware of?
2. Where do you want to be in five years?
Next, consider what elements of your business have changed recently. Take a look at your recent hiring trends and revenue growth over the last six months to two years. Although "yesterday's weather" can't perfectly predict what tomorrow will bring, it will help you understand how quickly your organization may be growing and the type of new challenges your technology will need to help you overcome.
As you grow, you'll need scalable solutions that are prepared for wherever your business takes you. For example, although you may not have a large pool of remote workers today, as you think about their career paths, family needs, or growing interest in flex time as an organizational benefit, could you see this becoming a bigger piece of your business model? If so, you will likely have different technology needs than an organization that relies on being in office for access to special equipment or infrastructure.
Beyond the pragmatic questions, consider your aspirational goals. Take a look at companies in your competitive set or other business models you respect and list what aspects of their digital presence or technology infrastructure you like. Sharing this type of information with a potential IT services provider will help them understand the balance between your needs and wants.
3. What do you need your technology to do for your business?
List out the primary functions your technology tackles. It's important that your IT services provider has deep technical knowledge of how those processes work, so be sure to cross-reference their specialties with your needs.
A few common technology tasks include obvious functions, such as email, faxing, telephones, WiFi, file storage and syncing, as well as digital collaboration. You may also have project specific or initiative-based needs, such as accounting software, fundraising tools, customer relationship management programs, online payment capabilities, and more. Although your IT services provider may not necessarily manage every technical tool you use, they will use this information to understand the level of security and IT infrastructure that's best for you, so spend time digging deep into how you use technology.
4. What type of investment can you make in the long and short term?
It's okay to check the price tag. First, consider how much you are willing or able to spend on equipment and software. This will set the baseline for your IT investment strategy. Also consider how you see this figure evolving over the next five years. It's important to realize that you don't need to do every update or make every investment upfront, and a good IT services provider will help you prioritize and parse out what you need to do when (within your budget).
Next, consider the type of pay structure you want with your provider. If your technology partner is close to your office or offers robust remote support, this may mitigate travel expenses and ancillary costs. Also consider whether a flat rate, a la cart pricing structure, or a retainer fee makes most sense for your business model. Being open and honest about your financial situation will help you and your future IT provider find the right package and services for your business before making any commitments.
5. What type of provider personality does your team need?
Also evaluate how comfortable your team feels with technology. A group of young, entrepreneurs and aspiring app developers come to the table with a different level of support needs than traditionally non-technical staff. While there's no right or wrong staff mix, knowing how much support your team needs or how deep their questions may get will help you determine if you need a generalist or an IT specialist.
Spend time talking to your staff about what their pain points are. As with any change management project, updating technology can feel disruptive or alarming to your team, so include your employees as early as possible to understand the type of provider they will feel most comfortable with. Chances are, your employees may work with your IT services provider more than you do for day-to-day needs, so it's important that there is a strong relationship between these two groups.
Part II – What to Ask Potential IT Services Providers
Know what you need and don't be afraid to say it. Asking your prospective technology partners tough questions to determine if they can handle your requests and what ideas they have to improve your ideas and business is a great place to start. Kick the conversation off by showing that you are invested in your technology and understand it's potential so you can make a decision you feel comfortable with.
1. What types of services do they offer?
Depending on your use case, not all IT services providers may be a good fit. Some may specialize in cloud-based storage and networking, while others may focus on secure eCommerce or data backup. This is why it's so important for you to understand what your primary business needs are. Knowing the types of services that complement your business let's you immediately begin to pare down the number of technology partners you will consider.
Also spend time understanding how deep their technical knowledge is. While there is nothing wrong with hiring a general IT support team, it adds a layer of peace of mind knowing that they can tackle more complex problems if they arise or as you scale your business.
2. How deep is their understanding of security best practices?
No matter what services you think you need, security should always be one of them. Although this isn't the most glamorous side of tech, your business information, client data, performance reports, and sensitive facts and figures should never be at risk. Always ask your prospective IT services provider what they believe makes for a good line of defense and ask how they have implemented similar solutions for businesses like yours.
Knowing that your technology provider is up to date on security best practices and has comprehensive experience tailoring security-oriented solutions for a variety of industries and business sizes is of critical importance when choosing someone who can protect and support your technology needs for years to come.
3. What is typical communication, onsite access, and response time?
Although some providers advertise a response or communication guarantee, it's more realistic to discuss how they have worked with similar companies in the past. Depending on your team and your unique solution, you may need varying degrees of communication. A good rule of thumb is that you should have at least one comprehensive annual review, frequent system monitoring, reasonably fast onsite response time, and 24/7 remote support.
Most importantly, it's important that you know what your expectations are and share them with your service provider. Even the best IT consultant isn't a mind reader and some customers are more interested in a hands-on relationship than others, so be upfront about what you and your team needs so you establish a great relationship from day one.
It's also a good idea to consider if you want IT support that's local to your business and when or not you have global expansion plans in the next five years. Depending on how you feel about these things, and where your IT services provider is located or what other offices they have can have a bearing on the success of your service.
4. Do they use a variety of reputable products?
Once your prospective technology partners starts sharing more detailed ideas about the types of solutions you need, do some research about the products they use and what partnerships they have. Even if you aren't familiar with the products themselves, a quick internet search will often reveal a lot about these tools' reputation and scalability.
Don't be afraid to ask questions about why they have chosen to align themselves with a certain product partner or why they are recommending one solution over another for your business. This strategic thought process will reveal how well they understand your industry or how successfully they are interpreting your needs.
To help you get to this level of clarity, try using the "rule of five." When your provider makes a suggestion, ask (at least) five "why's." For example, you might ask: Why this product? Why not another product? Why is this right for my company? Why is this the best solution? Why don't you see any risk associated with this? And so forth.
5. Check your credentials and customer reviews
Last, but certainly not least, don't forget to dig into the IT service provider's credentials and customer reviews. Ask for recommendations or contact information for similar clients you could speak with. Go deep and search online, check their website, look for customer quotes and reviews. Because choosing a technology partner is such an important, often enduring relationship, no IT firm worth it's salt would question your need for verification about the level of service they offer.
And that's it. You'll soon be working with a virtual chief information officer and making technology decisions like a pro. Despite all these critical questions, the most important aspect is being able to trust and communicate with your partner, so start there and the rest will follow naturally.